What to Expect from Symmetry at APA Congress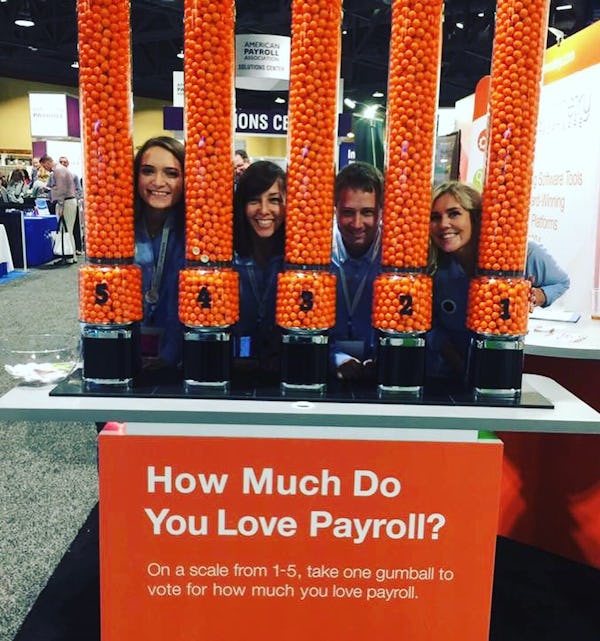 The 2017 expo hall at the American Payroll Association's annual Congress trade show opens in less than two weeks. Look for us in booth 715, and expect some great things, including:
Symmetry Bot:
If you use Slack as a communication tool at work, you'll be familiar with Slack Bot – the robot installed in the service to answer questions about the product. We've created our own bot to answer YOUR questions about a range of payroll topics, including minimum wage, local taxes, and other tax rates. If you don't use Slack (yet) stop by and we'll show you a great new way to look up payroll tax information!
Giveaways: You know us for our upbeat attitudes, but you probably remember us for our cool swag. This year expect nothing less. We have two luxury handbags – a Kate Spade satchel and Dooney and Burke satchel - to give away to lucky winners who scan their Congress badges at our booth. We also have your favorite nail files, sticky notes, and flyers about our products that help you simplify your payroll process.
Photo Sessions:
Last year, we asked you to write why you chose a path in payroll on sticky notes to adorn the back of our booth. This year, we want to showcase you with an idea we're calling, 'The Faces of Payroll.' Afterward, we'll give away our InstaFilm camera to another lucky winner!
2017 Payroll Goddess Badges: This speaks for itself. This year's payroll goddess blinking badge showcases the goddess in all of you – in multiple light up colors!
2017 Ribbons: Are you the nicest payroll person around or a payroll titan? We have a new batch of ribbons to
Minimum wage is a growing headache for anyone who is tasked with tracking wages and staying compliant. Using the same proprietary technology that pinpoints taxation requirements to an exact latitude and longitude, we have created a minimum wage look-up tool that quickly and accurately identifies minimum wage requirements for jurisdictions, helping you avoid improper practices. Hit up booth 715 to see just how easy we made it.
JEDDs:
We've spent years collecting data on Joint Economic Development Districts in Ohio, and now we've incorporated them into our products. Why does this matter? Come to the booth to find out.
We have new outfits we think you'll find appealing. We certainly like them!
Learn more about what we'll be showing off at the 2017 APA Congress, or schedule a meeting by visiting this page.
Payroll Insights Newsletter
Subscribe to our quartely newsletter for exclusive payroll insights.