What Is I-9 Employment Eligibility Verification?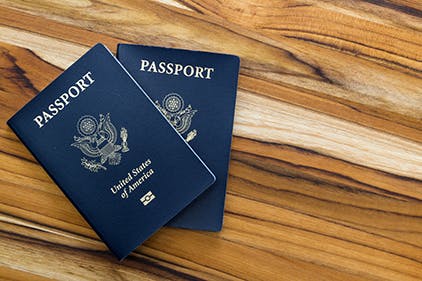 It's a typical scenario at businesses around the country: You need to hire staff quickly, and potential employees arrive with great recommendations. They have all the skills and qualifications for their positions. While it's tempting to hire them on the spot and show them to their desks, don't. You need to complete Form I-9, Employment Eligibility Verification first.
You and an employee must sign this attesting to his or her ability to work legally in the United States. You don't need to submit it to the IRS or any other government agency. However, you must keep it on file for every employee who you hire.
In addition to signing I-9 forms, a potential employee must prove his or her eligibility to work in the United States through certain documents. The complete list is included on the back of the I-9 form, but there are some common documents nearly everyone has that meet the I-9 requirements.
Establishes both identity and employment authorization:
U.S. passport
Permanent resident card or alien resident card
Establishes identity only:
U.S. driver's license
School ID card
State ID card
Voter registration card
Military ID card
Establishes employment authorization:
Social Security card
Original, certified birth certificate

Employer Responsibilities
The employer who signs the I-9 form must examine the documents presented at the time of employment. Your signature verifies you looked closely at the documents and they appeared to be in order.
You can't specify which documents someone can or can't show to apply for a job. Any documents from the list on the I-9 form can be accepted, as long as there's at least one document that proves identity and another that establishes employment authorization.
Many companies photocopy the documents, and while that's not required, it's good practice. If questions arise later, you can demonstrate the employee provided the information. Under no circumstances can you keep the original documents; these must always be returned to the employee immediately after examination and/or photocopying.

Maintain Good Records
Even if you hire only one or two employees, it's important to keep their records. Establish folders for I-9 forms and other documentation such as performance reviews, hours worked, job descriptions and more. Having records handy can save you a lot of time and headaches later on.
Payroll Insights Newsletter
Subscribe to our quartely newsletter for exclusive payroll insights.