Symmetry Software Joining Gusto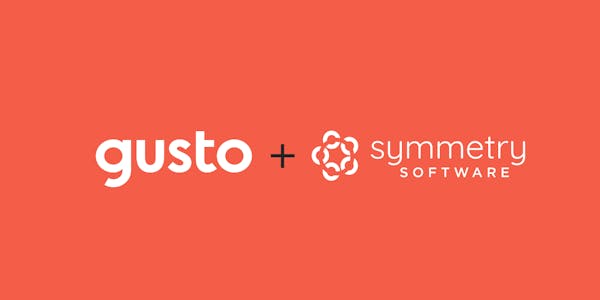 Symmetry and Gusto unite to provide a technology-first approach to payroll taxes.
Over the last 40 years, we've had the privilege of calculating the paychecks for millions of working Americans. In addition, we've helped America's largest companies determine the right payroll taxes for their employees. Today we are proud to announce Symmetry's next step forward as we will be joining Gusto to continue our mission to ensure that employee paychecks have the right taxes, the first time.
Our History
Our founder Tom Reahard wrote his first payroll system for the Apple II in 1979 while a PhD student at Arizona State University after learning from a ComputerLand associate that "people wanted to do payroll on the computer." A nights and weekends self-taught coder, he started Symmetry Software in 1984. Symmetry is now the second oldest software company in the greater valley of Phoenix, Arizona. Over time, Symmetry created additional unique payroll tax technologies that today truly provide an infrastructure relied upon by hundreds of thousands of growing businesses and millions of employees.
Gusto + Symmetry
When we first started working with Gusto, they had three employees and had written code to calculate paychecks in the state of California. Realizing the complexity of calculating taxes in every locality in the United States, they reached out to Symmetry. We've watched Gusto grow over the last decade to more than 1400 employees and have proudly supported their tax compliance efforts along the way. What has impressed us most about Gusto over the life of our partnership is that they are who they said they would be. They have stayed true to their mission of empowering entrepreneurs to create a world where work empowers a better life. We are excited to be part of Gusto as we continue our mission to help working Americans get their taxes calculated right, the first time. We believe that the paycheck is the most fundamental building block for creating a better life and are excited to have Gusto behind us as we further our efforts to ensure payroll tax compliance across the entire payroll industry.
The Path Forward
As we have gotten to know our Gusto colleagues over the years, it is clear that we share a lot of common ground, most importantly our commitment to our clients and simplifying payroll processes. We are eager to accelerate our product development roadmap and strengthen our partnership with our existing clients with the resources of Gusto behind us. The Symmetry Software leadership team, including Tom and current CEO Elizabeth Oviedo, will continue to run the business and serve our clients under the Symmetry Software brand. By joining Gusto, Symmetry will be able to enhance its existing products, services, and support, while continuing to develop stronger and more innovative features and future products. As we come together, our focus is to help our clients accelerate compliance with a technology first approach to payroll taxes.
We could not be more excited about the new opportunities this partnership brings, and we look forward to working with our clients for years to come.
See Gusto's blog post for additional details!
Payroll Insights Newsletter
Subscribe to our quartely newsletter for exclusive payroll insights.