Symmetry Software Announces New UI & API for Symmetry Payroll Point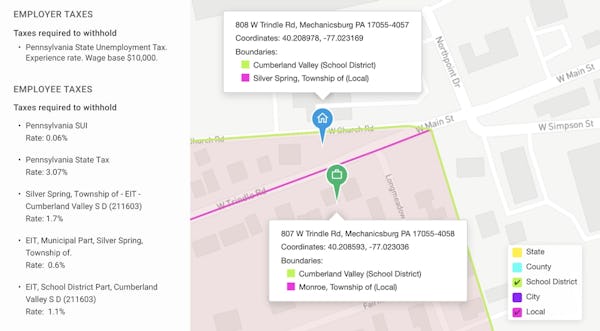 With over 37 years of experience in payroll tax compliance, Symmetry Software has served as the trusted payroll tech provider for the world's largest employers and payroll service providers. By focusing on the modernization of payroll tech through deep relationships with both our clients and taxing jurisdictions, we've continuously improved our software and systems to ensure we fulfill our promise of providing our clients with the right taxes the first time. When your vision is to power every paycheck and the ever-changing tax landscape, we must continuously innovate to provide our clients with the best payroll technology for their businesses.  
Today Symmetry Software is excited to announce we have launched an updated and modernized version of our world-class local tax finder, Symmetry Payroll Point.
Symmetry Payroll Point is the leading local tax withholding software in the payroll tax compliance industry. It quickly identifies and accurately determines complex federal, state, and local taxes based on work and residential addresses. It also leverages Symmetry's cutting-edge geocoding processes to convert U.S. Postal address data into GNIS coordinates for the most precise rooftop accuracy when paired with our proprietary geospatial tax boundary shapefiles.
The new version of Symmetry Payroll Point includes a RESTful API and Portal that provides clients with an optimized user experience. The new features allow clients to perform more tasks autonomously and rely on more powerful geospatial tax visualization. Our minimum wage finder module also received an update as a result of the Symmetry Payroll Point redesign with more minimum wage compliance data than before.
Key highlights include the following:
Accurate multi-state taxes
Advanced mapping technology
Increased compliance
Customized reporting
Tax compliance and accurate tax data are critical parts of any payroll team and business; in turn, having a reliable and user-friendly tax finder can be the answer to many payroll problems. With 32 million lookups so far in 2021, we believe that this updated and modernized version of Symmetry Payroll Point will increase accuracy and compliance in taxation while reducing tax jurisdiction notices and employee tax corrections. 
Interested in learning more? Contact us for a free trial. 
Current clients will receive more information about the new version of Symmetry Payroll Point and the transition period to migrate to the new system. For more information on the new Symmetry Payroll Point or to start your free trial, visit us here.
Payroll Insights Newsletter
Subscribe to our quartely newsletter for exclusive payroll insights.