Symmetry Software Named as One of Inc.'s 2021 Best Workplaces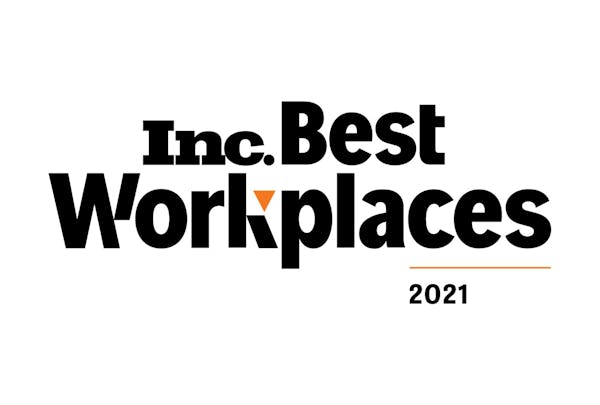 Symmetry Software has been named to Inc. magazine's annual list of the Best Workplaces for 2021. Hitting newsstands May 18 in the May/June 2021 issue, and as part of a prominent Inc.com feature, the list is the result of a wide-ranging and comprehensive measurement of American companies that have created exceptional workplaces and company culture whether teams are operating in person or remotely.
Symmetry Founder and Chairman Tom Reahard's vision has always been to help those in need get to where they want to be. As a software engineer himself, Tom strives to make developer-friendly products and practices such as free access to API documentation, ramp-up pricing programs for startups and clients still developing their solutions, and ample educational content. Tom also strives to make Symmetry a developer-friendly place to work in that he allows engineers extensive opportunity to architect solutions as they see fit and work on projects to eliminate technical debt, thus making their coding lives more manageable. This approach carries over into non-technical roles as well, where employees are encouraged to develop their own leadership abilities and work on projects in pursuit of the company's vision.
The leadership style at Symmetry Software is best described as family-oriented and a hallmark of the company.  This approach is also echoed by Symmetry's CEO, Elizabeth Oviedo, whose passion is helping millions of people get accurate paycheck calculations. It has been a guiding force behind everything Symmetry stands for, from the sales process, customer service orientation, and commitment to deliver the right taxes the first time. Symmetry Software's core principle promises to provide efficient and dependable software solutions and experienced and friendly customer service.
At Symmetry Software, we believe that a strong focus on employees and culture to improve and nurture the employee experience is essential.  A strong culture is at the heart of business resilience, and a company's strength draws from this culture. Symmetry spends a lot of time talking about the vision of who we are as a company, who we serve, and why it is so important. The leadership teams make sure that employees understand the why around their specific roles and Symmetry's why in general. We have found that the most resilient employees have a purpose and bring it to work. The more our employees can identify with the company's goal, the more likely they can get that purpose to their work. We see and understand that employees need to feel a deep sense of purpose at work. Beyond sharing daily reminders of our shared goal, we also internally highlight client case studies and how our clients use our software products to connect our end users to our employees. We also present in team meetings, leadership meetings, and company-wide meetings our strategic goals and priorities so that everyone is aligned with our product strategy and purpose. The degree to which you can articulate your culture and remind employees of its meaning can help them continue to find their purpose with their work. 
Organizations that can exercise grace and compassion during this time will unify their employees for the long term and hopefully spark new workplace community perspectives long after this. The pandemic has led to a more significant increase in humanity and compassion within people across the board. Many workplaces have become more understanding of employees' personal lives, as we find ourselves together more than ever. We are literally seeing each other's lives on display on video, and many employees face new responsibilities and challenges at home on top of their day job. At Symmetry, we understand to create unity, we must be willing to cultivate a culture of psychological safety where employees feel supported and free to express their different perspectives without fear of negative consequences to their image, status, or career. At Symmetry, we live this out through policies such as our flexible work location approach, bereavement leave, and bereavement charitable donation program, a policy of cameras on or off, no questions asked, and flexing work hours depending on employees' competing commitments.
We have experienced that building a positive collaborative spirit throughout the Symmetry Software team is so important. Having a collaborative workforce motivated by winning for the whole team—clients, employees, and company--and not solely focusing on individuals has helped us stay unified, adapt quickly, and navigate challenging times.
Collecting data from thousands of submissions, Inc. singled out 429 honorees this year. Each nominated company took part in an employee survey conducted by Quantum Workplace on topics including management effectiveness, perks, and fostering employee growth. The organization's benefits were also audited to determine the company's overall score and ranking.
"At Symmetry Software, we believe that the workplace culture of the future will be focused on ensuring that employees have a strong sense of purpose in their work, have psychological safety in their daily interactions at work, and work more collaboratively than before," says Symmetry Software CEO Elizabeth Oviedo. "Working together as a team and focusing on the outcomes that matter for clients and the business is at the forefront of what we do and will continue to help us grow our culture in new ways."  
"The definition of a positive workplace has changed drastically over the past year," says Inc. magazine editor-in-chief Scott Omelianuk. "Stocked fridges and nap pods were no longer perks many companies could rely on once work went remote. So, this year's list is even more important as it reveals organizations that continue to enrich the lives of its employees amid a pandemic."
About Symmetry Software 
Symmetry Software's mission is to simplify the payroll process with dependable and accurate payroll withholding tax solutions. In other words, to deliver "the right taxes the first time." Symmetry's tools were built from 37 years of experience in payroll tax withholding software. For software service providers integrating payroll into their applications and payroll and HR service providers, Symmetry's tools make our customer's processes more automated, efficient, error-free, and regulatory compliant. Symmetry's products include the Symmetry Tax Engine®, Symmetry Payroll Forms™, Payroll Point®, and PaycheckCity® calculators.  Since 1984, Symmetry Software has been helping clients deliver great payroll through powerful technology. 
Contact:
Katie Jackson
Marketing Manager, Symmetry Software
katie@symmetry.com
480.596.1500
About Inc. Media
The world's most trusted business-media brand, Inc. offers entrepreneurs the knowledge, tools, connections, and community to build great companies. Its award-winning multiplatform content reaches more than 50 million people each month across a variety of channels including websites, newsletters, social media, podcasts, and print. Its prestigious Inc. 5000 list, produced every year since 1982, analyzes company data to recognize the fastest-growing privately held businesses in the United States. The global recognition that comes with inclusion in the 5000 gives the founders of the best businesses an opportunity to engage with an exclusive community of their peers, and the credibility that helps them drive sales and recruit talent. The associated Inc. 5000 Conference is part of a highly acclaimed portfolio of bespoke events produced by Inc. For more information, visit www.inc.com.
About Quantum Workplace
Quantum Workplace, based in Omaha, Nebraska, is an HR technology company that serves organizations through employee-engagement surveys, action-planning tools, exit surveys, peer-to-peer recognition, performance evaluations, goal tracking, and leadership assessment. For more information, visit QuantumWorkplace.com.
Payroll Insights Newsletter
Subscribe to our quartely newsletter for exclusive payroll insights.