How Symmetry Payroll Forms "Guide Me" Can Help Your Clients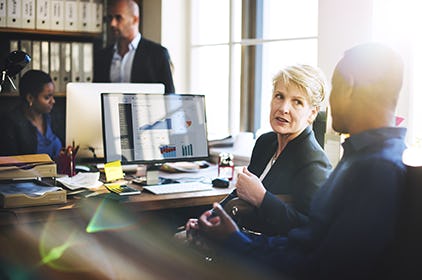 Tax withholding forms can be complicated and tedious. That's why Symmetry Payroll Forms has a helpful tool to walk employees through the process.
What is the 'Guide Me' feature?
Think of the 'Guide Me' feature as a personal instructor for each of your employees, coaching them on what information to provide and where to provide it. They give us the information and our system will do the rest.
What is the process of 'Guide Me'?
Using the 'Guide Me' feature is easy for employees. When accessing the portal for our forms, employees will have the choice of engaging the feature. Because Symmetry Payroll Forms integrates with your HR system, the product automatically enters your employees' work and home addresses. With this information, our product sorts through over 130 forms that we carry at any given time to provide the right ones the employee's needs.
Based on the employee information, 'Guide Me' will even suggest the number of allowances employees should enter.
Every time an employee completes a form, another required form populates. Then, Symmetry Payroll Forms sends all completed transactions to your payroll department.
'Guide Me' simplifies an otherwise complicated and monotonous process into simple steps. When an employee has filled out the correct forms, symmetry notifies them of the completed process. It's as easy as that. Less time filling out forms means an easier job for the payroll staff and creates more time for everyone to get work done.
Why Do I Need It?
Symmetry payroll forms are 100% electronic - say goodbye to mountains of paperwork and cluttered desks. Our forms are also automated, meaning they will update to meet federal, state and, local tax changes. You can also access the forms whenever it's convenient for you. But all this does not guarantee employees will fill out the withholding forms correctly.
That is why we created the 'Guide Me' feature. Compliance is of utmost importance to payroll professionals. When an employee uses 'Guide Me' they are following the correct protocol and providing the right information in the right spot.
Time-consuming withholding forms are no fun. Why spend hours on something that can be done in a matter of minutes? That's why Symmetry has the 'Guide Me' feature for online withholding forms. Now your employees can breeze through their forms, and you won't need to worry about compliance because Symmetry uses precise location data leveraging the power of the Symmetry Tax Engine.
If you liked this, you may like GeoCoding In Blog.
Payroll Insights Newsletter
Subscribe to our quartely newsletter for exclusive payroll insights.