What to Know About the Americans with Disabilities Act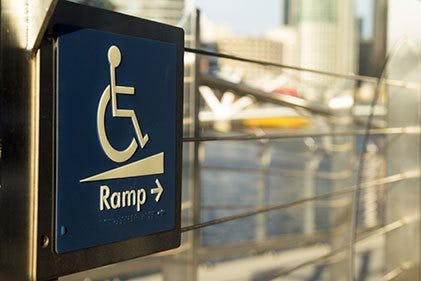 In 1990, Congress passed the Americans with Disabilities Act (ADA), which makes it unlawful for employers to discriminate against a qualified person with a disability. The law also stresses it's not okay for state and local government services, public accommodations, and transportation and telecommunication entities to discriminate either.
It's important for employers to know how the ADA affects whom they hire and how they treat people with disabilities after they've been hired.
Which employers does the ADA cover?
Parts of the ADA are principally enforced by the U.S. Equal Employment Opportunity Commission (EEOC), and other parts are enforced by the U.S. Department of Justice (DOJ). But generally, the law protects employees and applicants against job discrimination perpetrated by:
Private employers.
Employment agencies.
State and local governments.
Labor groups and labor management committees.
Discrimination activities
Basically, the ADA makes it illegal to discriminate in all employment practices, including:
Recruiting, hiring and firing.
Pay, layoffs, leaves and benefits.
Promotion, job assignments and training.
Also, under the ADA employers are not allowed to retaliate against employees asserting their rights under the act.
Who is eligible for ADA protection?
Anyone who has a physical or mental impairment that substantially limits 'a major life activity' is covered under the ADA. But employees must demonstrate with documentation that their impairment is substantial rather than minor. Substantial impairments restrict normal life activity and include problems with:
Hearing.
Seeing.
Speaking.
Breathing.
Performing manual tasks.
Walking.
Caring for oneself.
Learning or working.
However, in order to be protected by the ADA, a person with a disability must be qualified to do the essential functions of a job with or without 'reasonable' accommodations. That means that the applicant or employee must have the education, experience, skills and licenses necessary to do the job and be able to perform essential tasks, whether with or without reasonable accommodation.
What are 'reasonable' accommodations?
'Reasonable' accommodations are any changes or adjustments that allow a qualified applicant or employee with a disability to get, perform, and enjoy the benefits of a job. These accommodations may include:
Modified equipment and work schedules.
Adjusted and modified exams, training material and policies.
Readers and interpreters.
A workplace accessible and usable by people with disabilities.
Under the ADA, an employer must provide accommodations for a person with a disability unless it causes undue hardship, which includes significant difficulty or expense.
Payroll Insights Newsletter
Subscribe to our quartely newsletter for exclusive payroll insights.