What Jobs Are At Risk For Artificial Intelligence Takeover?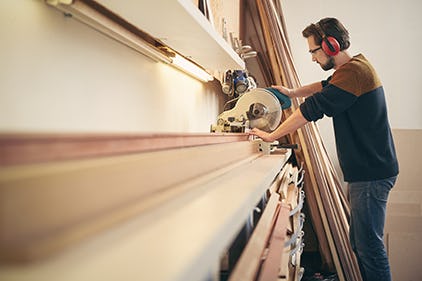 The last time you used self-checkout to complete a purchase at a store, did you consider this automated service replaced a human individual? What about your car? In the 1930's, mobs of factory workers pieced automobiles together. Today, this process is done almost entirely by machines.
Technology has transformed human tasks into cheaper, more payroll-efficient tasks performed by machines for countless decades. The purpose of automation is to increase productivity and output while decreasing costs and time.
It began with machines taking over industrial jobs. Now artificial intelligence seeks to replace certain jobs, particularly ones that pay minimum wage. According to the World Bank, 57% of jobs can be replaced within 20 years through automation and artificial intelligence. For example, popular fast food chains such as Wendy's, Panera Bread, and McDonald's have implemented automated ordering. In fact, Wendy's has 1,000 stores with automated ordering as of summer 2017. That's 1,000 stores that eliminated the need for extra staff to take orders at a counter.
Economists from The National Bureau of Economic Research, revealed in a study that one robot per 1,000 human workers slashes the employment to population ratio from .18% to .34%. With less humans working, this also reduces total wages in America by roughly .30% points. Industries that have embraced automation and robots thus far include manufacturing, electronics, chemicals, and pharmaceuticals. However, economists stress that just because an industry can utilize these types of technologies, doesn't mean they will. According to further research conducted by salary.com, these are the jobs most likely to fall to artificial intelligence in the coming years:
-Bus or service drivers. Companies such as Google, Delphi, and Tesla have been testing and alluding to a future of driverless cars for some time now. As most accidents occur due to human error, eliminating a human at the hands of a large motor vehicles poses to be a good opportunity for automation.
-Roofers. In the distant future, robots may take over this job.
-Using a traditional accountant has already become less and less common. With TurboTax and other software available, the cost for a taxpayer is reduced greatly.
-Line cooks. Moley Robotics have created a 'robot chef' that boasts the ability to cook 2,000 different meals at the tap of button that's set to be on sale later in 2017. Stirring, adjusting temperature, and other basic tasks for chefs can be replaced by this robotic set of hands.
-Cashier. This is already in practice with the use of self-checkout and self-ordering at stores and restaurants. The use of these have already proven advantageous to businesses and consumers, so the likelihood of the amount of automated cashiers is high. 
-Telemarketers. Most people have received a robocall. It's a 99% chance all telemarketing calls will be robotic within 10 years.
-Bank tellers and clerks. More and more ATMs are popping up across the nation, putting this job at risk. Using a machine saves a person time in multiple ways. Drive-through ATMs have furthered the allure of this automated service.
-Amazon already utilizes robots in its warehouses to move goods around. Less human workers means less wages, and less chances of injury that could result in workers' compensation lawsuits.
Payroll Insights Newsletter
Subscribe to our quartely newsletter for exclusive payroll insights.