What is a JEDD?
Ohio.
Land of LeBron James, Rock n' Roll, aviation, and super local complicated taxes – most specifically, the JEDD tax.
A JEDD is a Joint Economic Development District. This arrangement – unique to Ohio – creates a partnership between a municipality and a township, with the goal of developing township land for commercial and industrial revenue.
Each JEDD comes with an income tax slapped on to it. Municipalities love it because they benefit from these taxes without having to annex their portion. Townships love it because they get to snag prime development opportunities, collect property tax, a portion of income tax, and receive H20 straight from the municipality. Because agreements are fashioned largely on a case-to-case basis, other factors are considered occasionally.
After legislation was passed in 1993 to begin the process of creating JEDDS, communities went to work. With each JEDD, a contract is needed between the municipality and the township. Communities within these areas then vote on the agreement. In order to be passed, a majority vote is needed. Once approved, JEDDS are operated by a five-person board including a representative from each township and city and at least one business owner and business employee within a company operating in the JEDD.
That's when a chairperson is elected, and that specific JEDD's income tax is born. Normally, this reflects the respected city's income tax rate. That means businesses operating within a JEDD must adhere to yet another income tax – and employees and independent contractors who work in a JEDD will have to pay it, as well. Even if a person just shows up to paint a door at a business in a JEDD, he or she will be taxed adhering to that JEDD's rate.
Below is an example of a JEDD file in Akron. Currently, there are over 80 JEDDS in Ohio.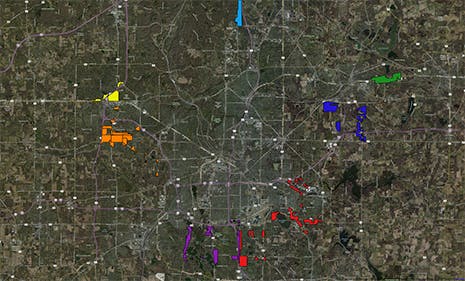 Light Blue: Cuyahoga Falls Boston
Green: Kent Franklin
Dark Blue: Brimfield Kent
Red: Springfield Akron
Purple: Coventry Akron
Orange: Copley Akron
Yellow: Bath Franklin Akron
Check back for more articles regarding JEDDS soon!
Payroll Insights Newsletter
Subscribe to our quartely newsletter for exclusive payroll insights.