What Entry Level Workers Make In Different Fields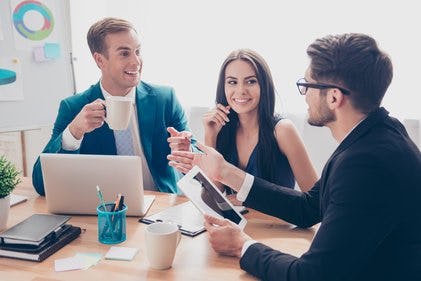 Across the country, college seniors have been graduating and ultimately thinking about or entering the workforce. Their choices are fruitful, but many choose to seek an entry-level job in their desired career path. Here's a snapshot of what entry level jobs look throughout different fields. Data based on salary.com research conducted in April 2017.
Accountant Level One - A median annual salary for an entry level accountant is $49,206 with a range of $44,791 - $54,176.
Business Development Associate - An entry level position in the field of business development boasts a median annual salary of $62,467 with a range of $53,126 - $74,844.
Call Center Representative - A popular job just out of college, a median annual salary for someone entering this industry is $28,224 with a range of $25,081 - $34,623.
Chemical Engineer - The field of engineering has been growing in numbers overall, with those seeking careers in chemical engineer becoming more popular as well. For an entry level job as a chemical engineer, employees can expect a median annual salary of $71,983 with a range of $65,750 - $79,568.
Civil Engineer - The median annual salary for a civil engineer is $65,358 with a range of $59,827 - $73,790.
CopyWriter - Those looking to enter the field of advertising or marketing, may be drawn to this career. An entry level, median annual salary is $47,180 with a range of $42,620 - $53,115.
- An entry level digital marketing analyst or associate can expect to make an annual salary of $52,365 with a range between $45,289 - $59,572.
Electric Engineer - Another popular engineer field for graduates entering the workforce in 2017 is electric engineering. A median annual salary clocks in at $66,155, with a range of $61,606 - $71,668.
Emergency Dispatcher - An emergency dispatcher can expect an median annual salary of $38,035 with salary ranges between $33,227 - $42,237.
Financial Associate - A career in corporate finance can often lead to comfortable living, with a median entry level annual salary of $63,227. Entry level positions can pay anywhere from $60,270 - $72,241.
- A median annual salary for a worker just beginning his or her career in Geology can make anywhere from $42,058 - $51,150, with a median annual salary at $42,567.
- Those with an inclination to helping assist with software and company questions can enter the field of help desk support. An average salary is $41,801, with rates ranging from $37,338 - $46,839.
Human Resources Generalist - Entering the field of human resources can lead entry level associates to a median salary of $53,166 with averages ranging from $47,028 - $59,765.
- The median annual salary for an information security analyst is $58,484, with a current range of $52,603 - $65,941.
- Handling records in this capacity earns entry level professionals an annual median salary of $35,063 with a range between $33,239 - $43,040.
Marketing Associate - Dependent on factors, an entry level marketing associate can make between $42,435 - $56,301 with a median annual salary of $49,186.
Mechanic Technician - The median annual salary for a mechanic tech is $41,312 with a salary range of $35,928 - $47,126.
Payroll Clerk - A payroll clerk can make an annual salary averaging between $36,170 - $46,021, with the annual median salary being $40,781.
- Keeping a company's relations afloat can earn an entry-level professional an annual salary of $44,031 - $57,743 with a median salary being $48,790.
Quality Assurance Engineer- Pursuing a career in quality assurance can lead to a median annual salary of $60,936 with rates ranging from $53,060 - $66,953.
- Finding other people to fill other jobs can earn a professional anywhere from $50,325 - $65,681 with its average being $57,874.
Safety Technician - How much does a safety tech earn? A salary can range anywhere from $37,271 - $52,091, with its average coming in at $40,750.
- An entry-level software engineer or developer can earn a median annual salary of $64,698 with ranges between $57,022 - $75,704.
- Working as a training specialist can earn its professionals an annual median income of $48,506 with rates between $44,201 - $53,703.
User Experience Developer - Ensuring a quality time on a website or app earns those working in the field an average annual salary of $58,461. Rates from $48,748 - $65,478.
Web Applications Developer - What does someone developing web applications make? An average median income of $57,883 or salaries ranging from $52,817 - $65,957 can be expected from this job.
Want to see what a paycheck would look like based on these numbers? Calculate a check for free here.
Payroll Insights Newsletter
Subscribe to our quartely newsletter for exclusive payroll insights.