Time Sheets: A Thing of the Past or a Necessary Burden?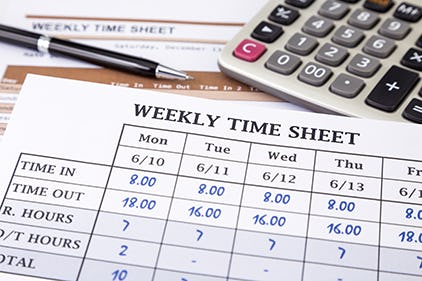 How much time do you spend handling routine tasks such as email? How many hours are spent working, and how many are spent chatting with co-workers? Do your employees actually capture all of their time accurately on a time sheet, or is it a lost cause?
Welcome to the confusing world of time sheets, the bane of some businesses' existence. Whether you have salaried or hourly workers, you may have this type of system in place to track your employees' on-the-job hours, sick time and more.
Time sheets have come a long way from old-fashioned ledgers and mechanical punch cards. However - even with newer computerized time systems, they can still be problematic.
Time Sheets Are Rarely Accurate
According to an article in the Harvard Business Review, time sheets are rarely accurate. That's especially true for companies who charge clients billable time. Many professionals, including lawyers, accountants, and architects, neglect to bill for time spent responding to phone calls and emails. The resulting inaccuracies may cost up to $50,000 a year lost due to clerical errors in time sheets.
Should You Insist on Time Sheets?
Most small-business owners, however, aren't concerned with billing outside clients. They just want to know how many hours someone worked and what to pay them. Requesting time sheets may be an easy way to accomplish this task, if they're accurate.
If you insist your employees keep records, keep the process as simple and easy as possible. The following five tips may help you improve compliance and submission among your employees.
1. Keep it simple! Get rid of complicated tracking and cumbersome systems.
2. Limit what you track. Ask yourself what is the most basic information you require from your employees. Is it when they arrive and leave? Vacation and sick time out?
3. Automate time tracking, if possible. Not only does this make it easier for all concerned, but it also makes it possible to automate time tracking and reduces the potential for human error. It can also be shared easily with remote employees.
4. Don't punish people for being honest. If you do choose to track based on projects, make sure you don't penalize people for reporting overages on certain ones. Instead, use this information to improve your ability to estimate how many hours it may take.
5. Tell employees why it is important. You'll improve compliance if you let your employees know how this all benefits them. Make sure they know it'll help you provide accurate paychecks and paid time off.
Payroll Insights Newsletter
Subscribe to our quartely newsletter for exclusive payroll insights.