The Fair Labor Standards Act - What Does it Entail?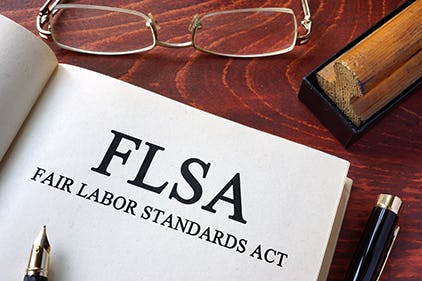 Near the end of the Great Depression, the United States government passed The Fair Labor Standards Act (FLSA). The FLSA established a federal minimum wage, a 40 hour workweek, standards for youth employment, standards for recordkeeping, and overtime pay.
Today, the FLSA continues to regulate and maintain: basic wage standards, recordkeeping, child labor, and equal pay.
Wage Standards (Minimum Wage and Overtime)
All employers must pay their workers at least the federal minimum wage (currently $7.25) for forty hours of work, as well as overtime at a rate of 1.5. There are exceptions to these rules, however. For example, exempt employees cannot make overtime.
An exempt employee is typically a white-collar professional, such as an executive or administrative professional. They are hired for their 'minds' and ideas, and therefore don't adhere to a fixed amount of hours; though, ideally they should be able to perform their jobs in 40 hours. Simply put, they must get their job done, no matter how long it takes. Non-exempt employees are generally hired for a task that can be done within a certain timeframe. These employees can make overtime if they work past 40 hours. Despite being labeled exempt or non-exempt, all employers must treat all their workers fairly.
In 2016, a new 'Final Rule' was introduced to the FLSA to update the salary and compensation levels needed for executive, administrative and professional workers to be exempt. However, it was halted by a federal judge in Texas before being able to take effect. Should it pass, the new threshold for exempt employees would be an annual salary of $47,476.
Recordkeeping
The FLSA requires employers maintain certain records for exempt and non-exempt employees. Exempt employee records include things such as name, address, and salaried rate. Records for a non-exempt employee include the following:
-Employee's full name and social security number.
-Employee's address, including full zip code.
-Birth date if younger than 19.
-Sex and occupation.
-Time and day of week when employee's workweek begins.
-Hours worked each day.
-Total hours worked each workweek.
-Basis on which employee's wages are paid.
-Regular hourly pay rate.
-Total daily or weekly straight-time earnings.
-Total overtime earnings for the workweek.
-All additions to or deductions from the employee's wages.
-Total wages paid each pay period.
-Date of payment and the pay period covered by the payment.
All payroll records for employees must be kept for at least three years. Wage and compensation documents must be on file for at least two. Any record should be readily available should the IRS or Department of Labor request them.
Child Labor
Child labor laws are authorized by the FLSA, and guarantee when young people work, the work is safe and doesn't threaten their health, well-being, or educational opportunities. These rules apply to anyone working under the age of 18. In certain areas of the U.S., kids can work as early as 14, but employers must adhere to stringent rules. For example, a 14 or 15 year old, cannot work more than 18 hours during a school week. They also cannot work more than eight hours on a non-school day.
Equal Pay
In 1963, the Equal Pay Act (EPA) was passed and the FLSA amended to include it. The EPA prohibits wage discrimination based on gender. Employees working equal jobs requiring equal skill, effort, and responsibility under similar working conditions must be paid the same. The EPA allows differential pay if it is based on any other factor other than sex, such as seniority.
While it seems the FLSA is in charge of most aspects of employment, it is not. Here are examples of employment laws the FLSA does not regulate:
-Paid time off (vacation), holiday, severance, or sick pay.
-Meal or rest periods.
-Premium pay for weekend or holiday work.
-Raises or fringe benefits.
-Payment of final wages to terminated employees.
Payroll Insights Newsletter
Subscribe to our quartely newsletter for exclusive payroll insights.