How to Terminate an Employee Ethically and Productively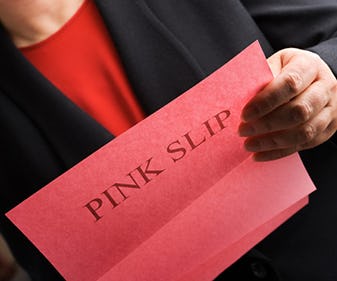 The small business world moves swiftly and unpredictably. Sometimes things don't work out with employees -- whether it's because they aren't performing to standards or simply aren't the right fit for your company. You don't have to feel bad or anxious about firing them — as long as you go about it the right way. Here are a few tips for terminating an employee ethically and productively.
Don't Catch Them Completely Off Guard
There are times when you can't necessarily foreshadow an employee termination. But for the most part, this type of situation materializes gradually. Maybe his or her performance begins to sputter, or that person doesn't get along with co-workers. Perhaps your finances have changed and you can no longer afford the position. If any of these things happen, you should alert them beforehand. You're not going to outwardly tell them you're letting them go, but you're going to plant the seed of possibility so they can respond accordingly.
Be Concise
No one needs a written speech leading up to the unfortunate news of being fired. Be brief and even terse with your prose. Be straightforward, give a brief explanation why and offer to field any questions.
Be Honest
Honesty is a powerful tool for turning a bad situation into a learning experience. Regardless of the circumstances, be truthful, direct and respectful with the employee you're letting go. You don't need to be a shoulder to cry on, but you do need to offer a clear understanding of what went wrong. This is especially true in cases where the decision was made more internally than in response to poor performance.
Put Them in a Position to Move On
It's common knowledge you should never let people go on a Friday and force them to think about their unemployment over the weekend. Let your employee go early in the week so he or she can use time more wisely. Give your former employee the option of packing up immediately or leaving quietly and coming back at another time; this allows him or her to maintain dignity and composure.
Process the Payroll Change
While doing everything you can to take the heat off of the employee, it's equally important to manage your internal accounting. Understand how the termination affects your taxes and finances beforehand, and follow up with payroll immediately afterward. This is a crucial step to ensure there are no mix-ups, disagreements or awkward conversations in the coming weeks.
Payroll Insights Newsletter
Subscribe to our quartely newsletter for exclusive payroll insights.