Have You Considered Hiring A Boomerang Employee?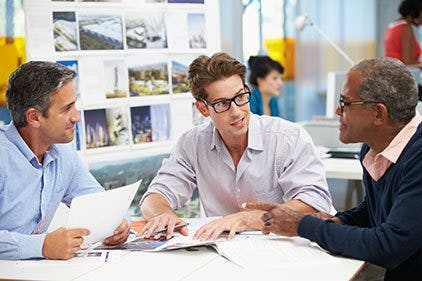 Steve Jobs, Steve Huffman, and LeBron James all have something in common. And no, James isn't secretly named Steve. All three men left a job (or were forced out) only to come back stronger, and better.
Jobs was famously fired from Apple in 1985. Huffman, the co-founder of Reddit, left his company to found Hipmunk and returned in July 2015. James left his hometown team the Cleveland Cavaliers to play for the Miami Heat, coming back to Ohio in 2014. Workers who leave a job just to come back -- such as these men -- are adeptly known as 'boomerang' employees.
In the past, most people considered a former employer should stay exactly that – former. You quit or are fired, brush your hands, chalk up the experience, and never look back. But times are changing, and so are attitudes.
In fact, a study by Kronos and Workplace Trends gauged more than 1,800 managers and employees in the human resources field, discovering 76% of managers said they'd be more willing now to hire former employees than they were just five years ago (Thanks, Bron Bron).
Only 15% of employees involved in the same survey said they had 'boomeranged' back to a former employer, but nearly 40% said they'd consider going back to a company where they previously worked. Diving deeper, the survey revealed 46% of Millennials would consider 'boomeranging', compared to 33% of Generation Xers and 29% of Baby Boomers. Research gathered from the same survey concluded there are four loose types of boomerang employees:
Those who left to further develop their skills elsewhere – perhaps the first company wasn't offering a type of training he or she wanted, or management wasn't prepared to cross-train at the time.
Employees who wanted to scratch their 'what else is there in the career world?' itch. Because you never know, right?
Employees who experienced a dramatic life change. This could include a sick family member that desperately needed attention, or returning to college to obtain a master's or separate bachelor's.
Periodic 'boomerangers' – or those who do it on purpose, like retired or seasonal workers. Think National Park tour guides or Walmart Christmas greeters.
These positive changing outlooks to the various types of boomerang employees mentioned are an overall reflection of the ever-fluctuating business scene. The incoming work force is younger, more tied to technology, and desires different things from a company, like flexibility and more career growth opportunities. People also leave jobs for reasons that were practically unheard of in the past – anything from traveling, to a dedicated school break (this happens so much now, it's a type of boomerang employee). With the expansion of social media, employers can watch their current and former employees and maintain relationships, thus seeing a deeper value in them as employees (given they maintain a certain level of professionalism online).
So is it beneficial to re-hire former staff at your company? Potentially. Consider these elements:
It's much easier and cheaper to re-hire. Provided he or she hasn't forgotten what it was like to be at your company, that person is already familiar with your business and your systems, such as HR software and overall company conduct.
It shows your recruiting and retention efforts are effective. Outsiders who see boomerang employees within your organization will recognize loyalty, and maybe want to work for you, too.
It takes less time for a re-hire to engage in company culture. They're happy to back with a familiar organization and old friends and as such, thus becoming more motivated, and serving as a prime example for other workers.
Boomerang employees increase competition – which widens your talent pool – and can typically be more interested to seek out promotions, creating internal competition.
Again, interestingly enough, nearly half of the managers (roughly 900 people) surveyed by Kronos and Workplace Trends reported having a 'no re-hire policy' just a few years ago. But as previously mentioned data suggested, this is changing. Will your organizations ensure employees are engaged and feel appreciated while at work? –If someone decides to leave to explore other career options, your company could likely be on a short list of options if his or her career situation changes. Read more about the study here or add to our discussion on PayrollTalk here.
Payroll Insights Newsletter
Subscribe to our quartely newsletter for exclusive payroll insights.