Tech Trends in Payroll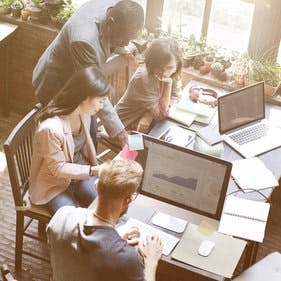 As the world continues to modernize, so does the scope of payroll management. Technological innovations like cloud-based computing and mobile devices coupled with an emphasis on data security and predictive analytics are not just occurring – they are revolutionizing the payroll processing market.
Cloud-based computing refers to accessing and using software on a remote server. Businesses can run on third party servers accessible from any Internet connection. All transactions and data are stored on a mainframe server, where each transaction occurs on the vendor's server as opposed to a personal computer. One advantage to the cloud is the software remains updated around the clock – individual managers and employees are no longer required to run and update software on their own computers. Another pro is payroll data stored on the cloud is backed up automatically. The auto-backup ensures the information from computer crashes or natural disasters such as a fire or flood – decreasing overall risk. An additional advantage is the cloud reduces costs for businesses. Monthly usage fees occur, which allows businesses to purchase a service package that suits their needs. Like many other industries, payroll companies are turning to cloud-based services.
Mobile devices have introduced efficiency and convenience into the payroll market. Managers and employees want the ability to access payroll data whenever and wherever – and now they can. Payroll companies have responded to the market demand by rolling out mobile apps, which allow managers and employees easy accessibility to their payroll information. An example of this app may include a single dashboard that displays messages and products in one location. Capabilities such as emailing an employee with the tap of a finger or remotely accessing payroll now exist. On the employee's side, his or her app provides them with the ability to access pay stubs and retirement account information.
With online advancements in efficiency and convenience, data security has become an integral focus for payroll providers. The uncertainty and fear of a cyber attack is the catalyst for emphasized security measures. Cloud computing involves the uploading of client data to various servers outside of the firm's control. If the environment is not safeguarded adequately, security risks arise. The American Institute of Certified Public Accountants (AICPA) is encouraging cloud-based subscribers to form agreements that guarantee ownership and safety of all payroll information. Companies are advised to thoroughly review data security protocols of their payroll service and continue to look for ways to ensure their data is protected.
Another method of heightening security and forming predictive insights is through data analytics. With access to large amounts of payroll data, companies now have the ability to examine underlying trends that may exist. Understanding the data unlocks the potential to realize payroll fraud, trends in hours worked, and overtime pay. Any of these valuable insights provide companies the evidence to make informed decisions regarding human capital management.
Switching from the traditional model of payroll management to accessible cloud-based processing, providing convenient access to payroll data on mobile platforms, increasing security awareness, and examining payroll data analytics are transformative trends taking place in the payroll market today. Watch how these trends continue to evolve and grow as innovation progresses.
Payroll Insights Newsletter
Subscribe to our quartely newsletter for exclusive payroll insights.