Cybersecurity Awareness Month: Staying Up To Date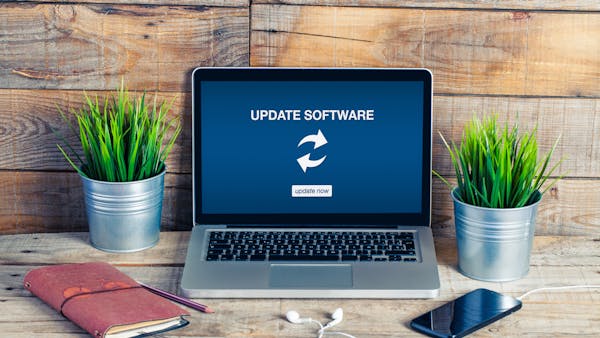 Since the beginning of COVID-19, many individuals have worked from home and many may still be working from home or enjoying a hybrid schedule. One team we all may miss while working from home is technical support! While we may only remember the times they helped us fix an issue, they did a lot more! For instance, they always made sure our computers were up to date. In honor of October's Cybersecurity Awareness Month, we want to make sure you understand the importance of updating your computer to keep safe and stable. 
Keeping your technology devices up to date has many purposes, including enhanced features, better compatibility, and your software's overall stability. These updates give you the best user experience and provide you with the newest features to ensure you are getting the most from your technology. Updates often also include fixes that help your computer run smoother and removing bugs or outdated features. For example, in a recent Windows update, the start menu was updated to help you see the icons better. In the recent macOS update, an issue was fixed to help devices automatically connect to Wi-Fi networks. Without these updates, you may experience longer loading times and more error messages when doing basic computer tasks. 
Updating your devices also helps keep you safe from hackers! Microsoft has sent out many updates in the last few months. Some of those updates have been critical and security related. Computer software can often have security flaws or a security hole. It can take time for hackers to find the correct code to target the security hole. Keeping your computer up to date is urgent. You want to make sure the security holes are patched before you experience a hacker trying to take advantage of the vulnerability. Be sure to check your computer to make sure it is up to date.
It may take a few minutes for you to download the most recent updates for your computer; however, this short amount of time is worth it! These updates are an essential step you can take when it comes to protecting your data! You can lose hours of valuable work time on a slow device due to a lack of updating. Even worse, you could lose important data and documents due to a hacker accessing the security hole before you have a chance to update it. Contact your technical support team now to make sure your computer is fully updated and secured!
At Symmetry Software, security is our priority. We want to make sure our friends understand the importance of staying safe and up to date! For more cybersecurity awareness, check out our Cybersecurity Awareness Month featured articles and check out the official National Cybersecurity Awareness Month resources. As always, stay safe and #BeCyberSmart!
Payroll Insights Newsletter
Subscribe to our quartely newsletter for exclusive payroll insights.